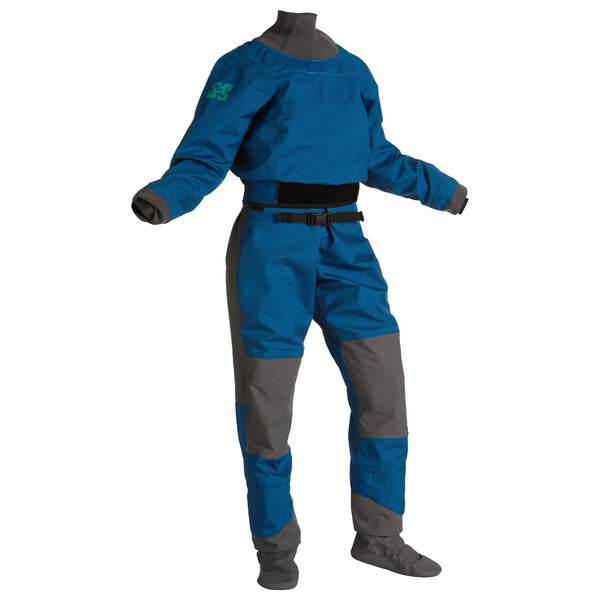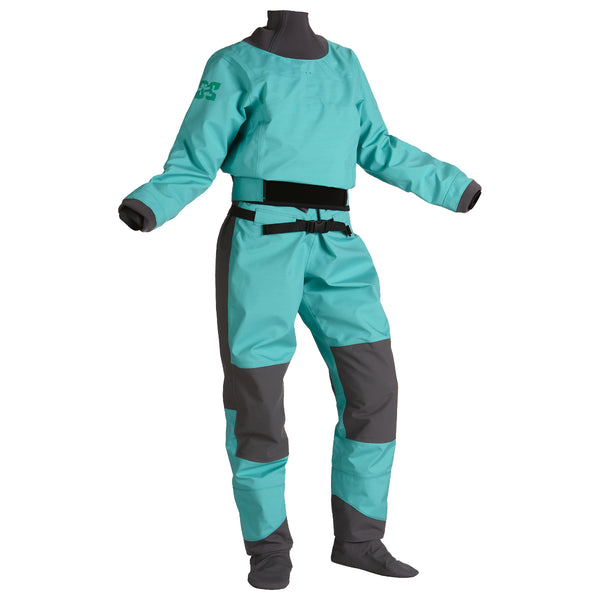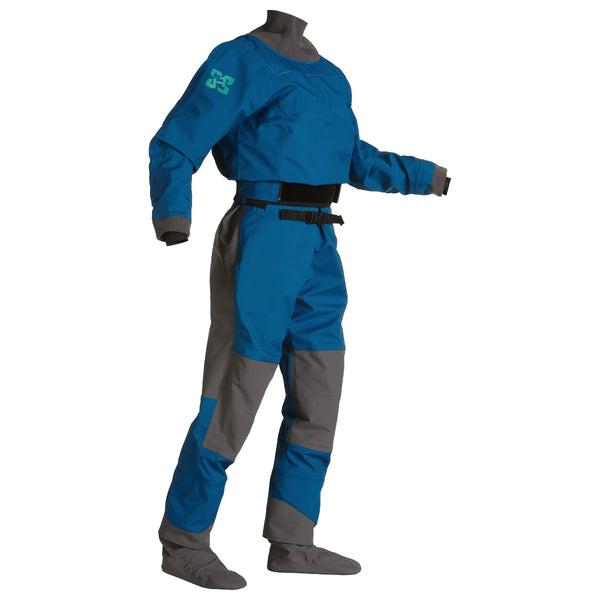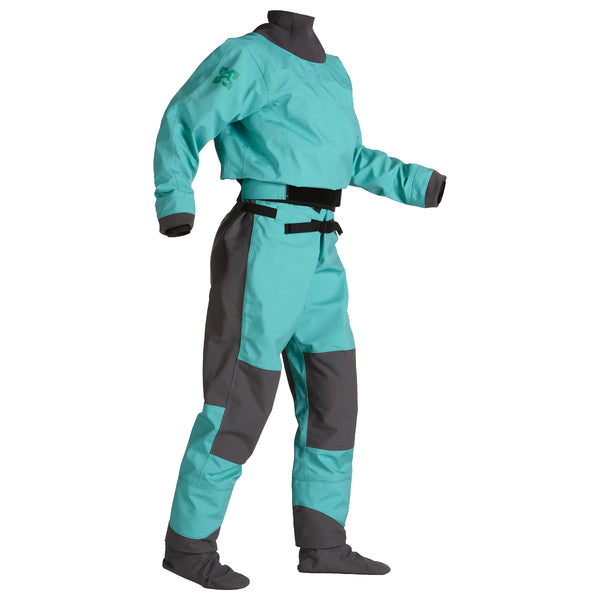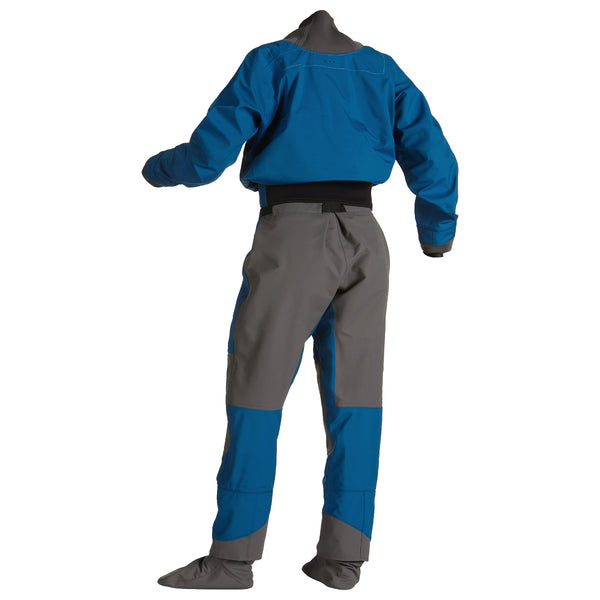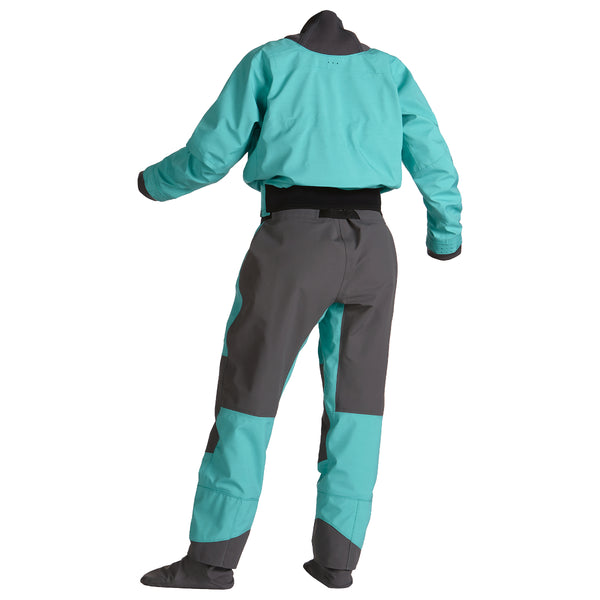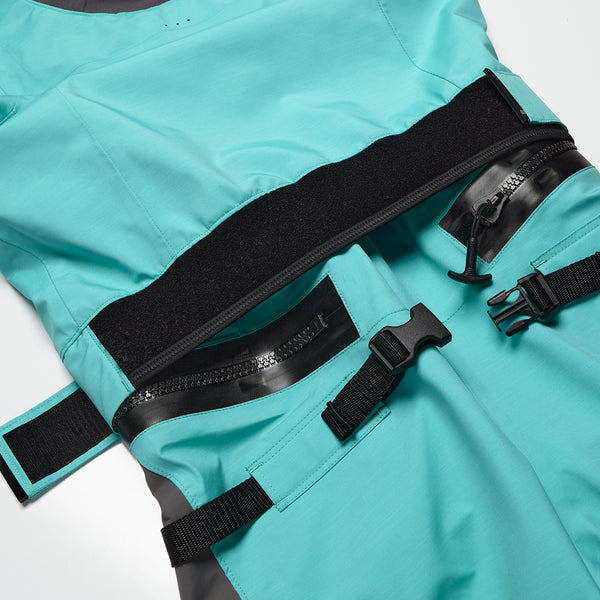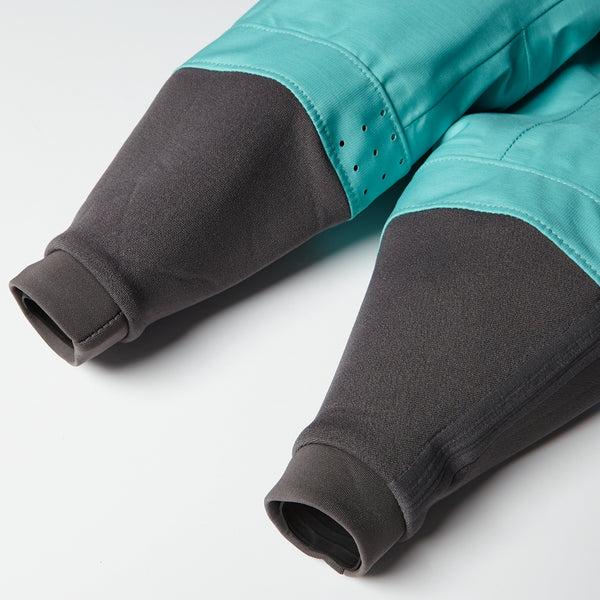 Aphrodite's back. Back again.
Revamped for 2022, the Aphrodite Women's Dry Suit features an improved, articulated women's specific cut designed to fit a diverse range of body shapes and sizes. More room in the upper thighs, seat and shoulders increases mobility while the streamlined neck cuff makes entry even easier. A strategically placed clamshell zipper functions as an entry and relief zipper, minimizing bulk and maximizing range of movement. The zipper offers a user-friendly and spacious opening for easy relief during the day and sits conveniently out of the way of seats, back bands, etc. Our unique breathable polyester shell is made entirely from recycled water bottles and is bluesign® certified. Polyester is naturally hydrophobic, ensuring that the material won't absorb water over the course of the day. Additionally, it improves breathability, avoids condensation and helps decrease drying times.
Designed in-house by the best in the business in Hood River, Oregon.
•3-layer waterproof/breathable shell with 100% PCW recycled polyester face fabric treated with C6 DWR (durable water repellent) finish
•Booties, seat, knees and ankle cuffs reinforced with abrasion-resistant Devil's Club 3-layer 240g/m² nylon Taslan face fabric
•Clam-shell YKK® AquaSeal® entry zipper & relief opening
•Latex neck and wrist gaskets are designed to be easily trimmed to size allowing a custom, personalized fit
•Bandless, neoprene neck over cuff stretches easily, while offering protection for latex neck gasket
•Volcano neoprene wrist cuffs protect conical latex gaskets, increase dryness and make for easy 'banana peel' slip off
•Adjustable webbing belt secures the suit at the hip
•In an effort to reduce plastic consumption, this suit comes packaged in a recycled oversized billboard gear bag. These gear bags are cut and sewn by the Cambria Center for Blind and Handicapped in Johnstown, Pennsylvania.
•Size variations available to fit people of most shapes and sizes (S-XL)
•Shell Fabric: 3-layer PCW 100% recycled polyester
•Fabric Weight: 215 g/m²
•Waterproofness (mm h₂o): 30,000
•Breathability (g/m²/24h): 4,000
•Weight: 3.5 lbs (56 oz)
•Country of Origin: Vietnam
•Hang to dry and avoid prolonged periods of direct sunlight if possible.
•Only store your suit for periods when the suit is 100% dry.
•Can be machine washed ONLY in a front loading washer on cool through a gentle cycle with mild detergent. Hand-washing is preferred for safety.
•Try to keep dirt and grit away from suit zippers for longevity.
•If used in saltwater, rinse with fresh water immediately after use.
•Go here for more information on how to properly care for your dry wear.